This recipe and its accompanying photos were created by Kaitlin Yocom of @creatingkaitlin.
1) Preheat oven to 350 degrees and set out your donut hole pan.
2) In a medium-sized bowl, whisk the butter until smooth and then add eggs and vanilla until combined.
3) Mix in half of the sugar until combined and then add flour, baking powder, and cinnamon until a smooth batter forms.
4) Place a small scoop of batter into each donut hole mold and bake for 7 to 9 minutes or until a toothpick comes out clean.
5) Let donuts cool and then remove them from the pan.
6) Prepare the cinnamon sugar coating by melting the butter in one bowl, and mixing the cinnamon and sugar in another bowl.
7) Brush each donut hole in melted butter and roll in the cinnamon-sugar mixture.
8) Enjoy with Mrs. Mustard as the dipping sauce!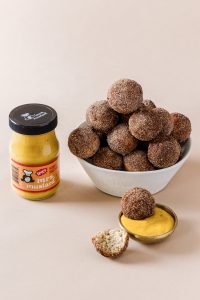 "SPREAD" THE WORD.