This recipe was created by @TheKetoGrillGuy and was originally shared on Instagram.
Rib Prep
Trim the ribs into a St. Louis-style cut.
Use Woeber's Jalapeno Mustard as a binder and cover both sides of the ribs.
Season both sides of the ribs with your favorite BBQ rub.
Cook the ribs at around 400 degrees for two hours.
Brush the homemade sauce on and let them finish cooking for 30 minutes.
Woeber's Jalapeno Mustard Sauce
Combine all ingredients (mustard, vinegar, sugar-free maple syrup and BBQ rub) in a small sauce pan.
Simmer for 20 minutes.
Remove the mixture from heat and let it cool.
Apply to the ribs during the last 30 minutes of cook time to adhere.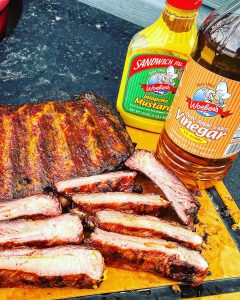 "SPREAD" THE WORD.