This recipe was created by @TheKetoGrillGuy and was originally shared on Instagram.
Use olive oil as a binder and cover the ribeye with salt, pepper and garlic seasoning.
Cook the ribeye in a cast iron skillet until it reaches an internal temperature of 130 degrees. Baste it with butter while cooking.
Grill onions, as desired, in the same pan.
Combine arugula with lemon juice and pepper.
Using Woeber's Horseradish Sauce as your base, create your sandwich using all of the ingredients prepared above.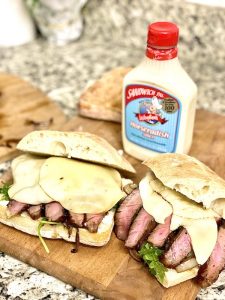 "SPREAD" THE WORD.