Back to Blog
Hey there, foodie pals!
I kicked off this week in yummy Youngstown, Ohio. Located in the American Rust Belt — a region of the United States known for manufacturing — you'll often hear it referred to as simply "Y-Town" by the locals.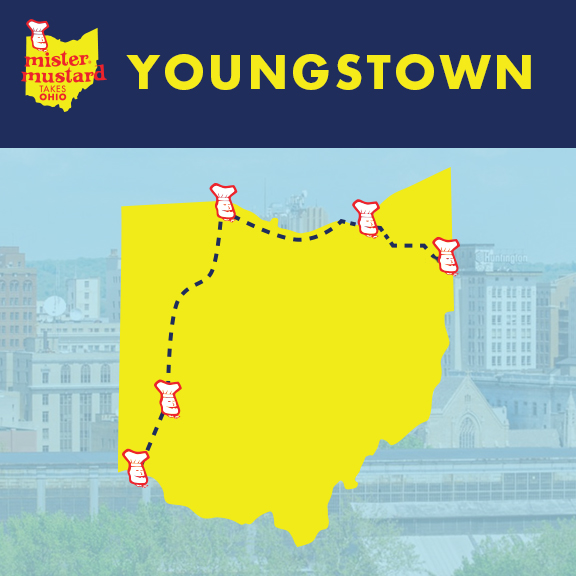 My first stop at Suzie's Dogs & Drafts had all of my favorites right in one place. Naturally, The Super Dog was my first choice and, frankly, we were quite a match.
Making my way through the heart of downtown, I hopped over to an eclectic, independent batch brewery, Noble Creature Cask House, for a few sips of their in-house specials. Then, I made my way to The Kitchen Post for chicken biscuits, BBQ brussel sprouts and, get a load of this, potato and octopus salad. (Yeah, you read that right.) I'm always up for an adventure and that dish definitely delivered.
Bursting at the seams, I leaned back at Ward Beecher Planetarium and traveled to the depths of our solar system, exploring constellations and black holes along the way. Learning makes me hungry so I took my new knowledge over to Handel's Ice Cream, a Youngstown favorite that's been featured in national publications like USA Today and US News and World Report. I kept things cool with a famous Handel Pop (Handel's homemade ice cream covered in rich, dark chocolate) and a malted milkshake.
I closed out my trip to Y-town with dinner at Station Square Ristorante, a seven-time recipient of the Wine Spectator Award of Excellence that serves more than 425 wines from 11 different countries. After a few glasses of vino and a large bowl of linguine, I made my way to Jimmy's Italian Specialties for a chocolate cannoli. With a wonderful ending to a delicious day, it's time for me to hit the hay.
Catch me next week in Columbus to see what the capital city has to offer.
Saluti!
Signore Mostarda