Back to Blog
What's up, mustard lovers?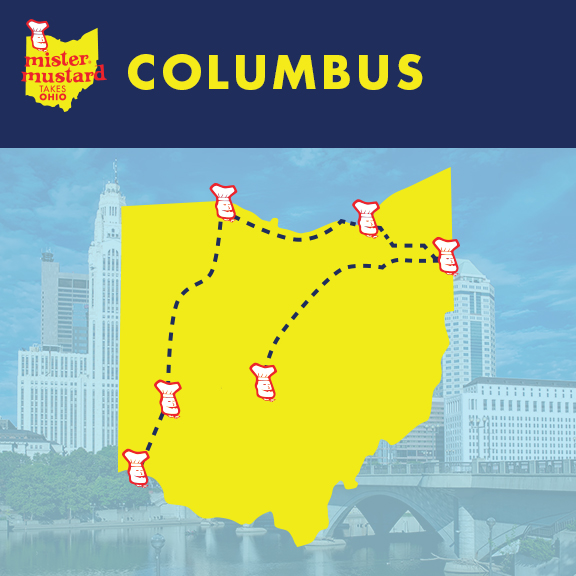 After a yummy day in Youngstown, I kicked off my week in the state capital: Columbus. In addition to being home to one of the largest universities in the country, the city also has a thriving food scene.
My tour of Columbus started out in German Village where I felt right at home. I was able to explore my heritage with a few cold brews and a hardy Knockwurst from Schmidt's, topped with Woeber's mustard, of course. I then made my way to The Thurman Cafe to try my hand, or should I say stomach, at their famous burger, The Thurmanator. Mustard vs. Food would be decided by a bun overflowing with two 12 oz. burgers, bacon, sautéed mushrooms, onions, ham, three (yes, THREE) types of cheese, mayo, lettuce, tomato and banana peppers. And don't forget the pickle spear and a pile of fries. It was unlike anything I've ever eaten!
Desperately needing to walk (or should I say waddle) off my meal, I stopped to smell the roses in the Franklin Park Conservatory. With more than 400 species of plants from around the world to admire, it was the perfect place to take a breather.
I found my next meal in the heart of downtown at Dirty Frank's Hot Dog Palace. Turning up the heat, I tried the Dog From Hell (a hot dog covered with Giardiniera, pepper flakes and cream cheese) — but, let me tell you, it tasted a lot like heaven.
My stroll through the city led me to the bustling North Market, filled to the brim with Columbus favorites. Between creamy Ma's Mac from Hot Chicken Takeover and a scoop of salty caramel ice cream from Jeni's, it was well worth the stop. Strolling through the Short North, I explored art galleries and stopped at Marcella's to sample their famous spaghetti and meatballs — that's just how I roll.
Much like my waistline, my tour of Columbus rounded out with a sweet treat from Buckeye Donuts, a favorite of The Ohio State University since 1969. With an apple fritter in one hand and a german chocolate donut in the other, I'm going home a happy camper.
Thanks for going nuts with me in the great city of Columbus. Catch me back in my hometown of Springfield for the final leg of my tour.
O-H!
MM