Back to Blog
Howdy, taste-setters!
This week, I'm visiting the Rock and Roll Capital of the World — Cleveland, Ohio. Trust me, this place is no mistake.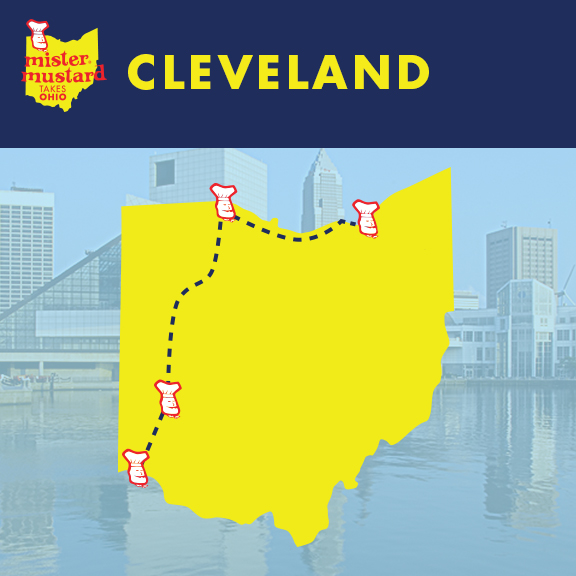 My route through the city first led me to CLE Urban Winery, where any great day starts with a glass half full. After some zinFANdel (very punny, Believeland), I hopped along to West Side Market, Cleveland's oldest municipally-owned market. Housing every food group known to man, I grabbed a potato pancake from Pierogi Palace, falafel from Maha's Falafel and Greek pastry from Spanos Bakery. Cultural cuisine: check.
I strolled across the street to Great Lakes Brewery and sipped on their classic Conway's Irish Ale, an ode to the owners' grandfather. Before leaving Ohio City, I stopped at TownHall for a quick jolt of caffeine, courtesy of their Nitro Bru.
Buzzing like a bee, I stopped at the must-see Rock & Roll Hall of Fame for a glimpse at memorabilia from music legends, including a piano used by John Lennon. You may say I'm a dreamer, but who says mustard can't jam? Channeling my inner Bowie, I strummed my air guitar like there was no tomorrow.
All that singing left me thirsting for more of the city. At Barrio, I took a few sips of The Sassy (naturally) Pineapple margarita along with a few dips of chorizo queso — tequila and liquid cheese make my world go round.
Then, I made my way to Progressive Field for a quick look at the Cleveland Indians 2019 lineup. And I even convinced their beloved mascot Slider to make me one of his namesake hot dogs — topped with Fruit Loops, bacon and pimento mac and cheese — from Happy Dog. Top it with your favorite mustard (me, obviously!), and it's a grand slam.
Letting out another belt loop, I concluded my tour of The North Coast at Melt Bar and Grilled, a gourmet grilled cheese joint named "Best Sandwich Shop" on the 2018 Cleveland Hotlist. I ordered the Chicken & Waffles sandwich, a mile-high doozy stuffed with crispy chicken and maple Belgian waffles. What a great way to end a delicious day.
Can you believe we're halfway through this eating extravaganza? Hold tight mustard lovers — we're heading to Youngstown next!
Adios amigos,
Señor Mustard