Back to Blog
Welcome back, dear friends:
As they say, there's no place like home! For my grand finale, I'm excited to share the hidden delicacies of my hometown: Springfield, Ohio.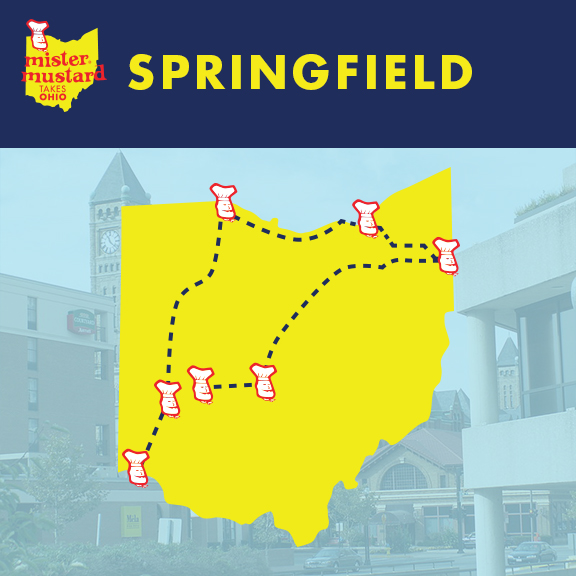 My tour alongside the Mad River kicked off with a BBQ pulled pork sandwich and macaroni salad from Season's Bistro and Grille followed by a quick sip of Disco Dancer IPA at Mother Stewart's Brewing Company, a family-owned brewery located in the heart of downtown.
Next up, I stopped by Champion City Guide + Supply for some new hometown apparel and rolled out of there looking like a million bucks — per usual.
Looking to get my hands on the best mustard Ohio has to offer (obviously, Woeber's), I made my way to one of Springfield's oldest locally-owned and -operated restaurants, Mike and Rosy's Deli. One of their famous hoagies, topped with mustard that's made just two miles away, is the perfect combo.
At Young's Jersey Dairy, physical activity and fried food go hand-in-hand. I ran around feeding each farm animal and played a rousing round of miniature golf with one of their classic Jersey cows. After a crushing loss, I drowned my sorrows in a plate of fried cheese curds and two scoops of cow patty ice cream. Lemons, meet lemonade.
No trip around Springfield would be complete without exploring the city's rich history. The Heritage Center, originally Springfield's City Hall and Marketplace, was the perfect starting point. After reading up on topics such as the first interstate highway and Clark County archaeology, I hopped over to Cecil and Lime to make some history of my own. I will say, their Longdale Burger and I make a pretty great pair.
Alright mustard lovers, are you ready for the final act? To round out this tour, I rolled down to Schuler's Bakery — a mecca for all baked goods. Between the glazed donuts and iced sugar cookies, my Springfield tour ended on a pretty sweet note.
Let the food coma commence!
MM